Elizabeth the Owner of Kiss my Sass Cosmetics contacted me if I wanted to try a few of her products and of course I said Yes, I love to try new products! I went to the website and I fell in love with al the pretty colors !  So I  had to order a few more samples myself too! I already showed you guys a look using the pigments, and today the swatches of the products I got! Of course my total honest review !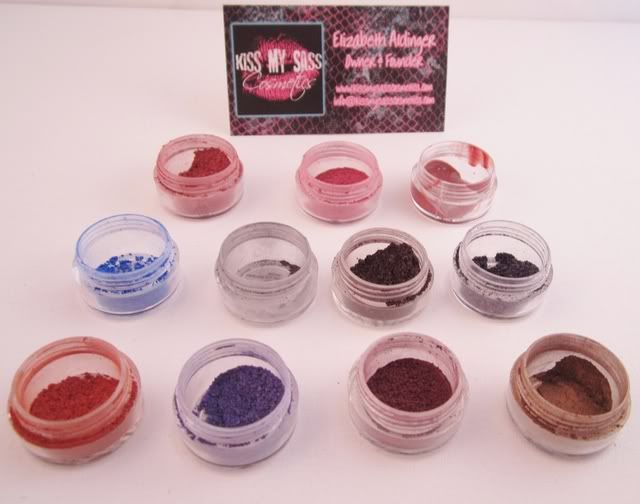 Coral Skies, Reign over me, Feisty, Hayride

Naughty dog, Sleepy Hollow (I dropped this baby, *Cries* ), Fascination, Tattooshop

Blusher Wineberry, Blusher Raspberry Snow Cone, Lipglaze Poisoned Apple
On to the swatches! I did used a primer underneath!
Hayride, Coral Skies, Sleepy hollow, Reign over me, Feisty, Naughty dog, Tattooshop
Blusher Wineberry, Raspberry Snow Cone, Lipglaze Poisoned apple.
First of all I like the packaging, the new labels have the names on top and bottom so it doesn't matter wich way you store them you always can see wich color it is. And also the ingredients are listed on the bottom and if it's vegan or not and if it's lipsafe or not ect I like that!
I think the shadows are great and really pigmented but I do wish that the pretty sparkles in the pigments showed a little bit more when you apply it on your eyes, for example Tattooshop wich is an amazing dark purple with tons of shimmer in it , looks great in the jar as well but once you apply it on the lid you can't really tell those amazing multicolored sparkles anymore but just a pretty blackned purple. But I think that's no different from other sparkly eyeshadows I've tried I always have those problems when applying them .
The blushers are super pigmented as well and they look gorgeous on the skin too.
The lipglaze is just a really pretty sheer gloss with a hint of color wich I do like! And I love the smell! Overall I think the products are worth checking out because they are really nice!
You can get the pigments on the website as a Sample ( $1 sample bag $1,75 sample jar)  and fullsized ($6) .
The blushers in a sample ( Mini jar $1,75) Mini size  10 g ($7,50), and full size 20 g ( $12)
Lipglazes in A sample ( 1 g in a jar $2) and fullsize ( 10 g squeeze tube $8)
Shipping was amazing too, I got it within a few days wich is impressive this time of the year *holiday madness* She ships International and the shippingcosts are very reasonable if you spend over the $25 you get free shipping!
So check out her amazing cosmetics it's worth trying out!! Please let me know if you do!
Hope you all have a lovely day!